SmartyMarketPlace
SmartyMarketPlace is a service that provides small businesses a two page "starter" or business brochure website
for a reasonable monthly price. This service is provided by SmartyWebBuilders LLC. See our directory of businesses
in the SmartyMarketplace below.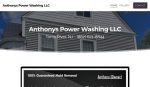 Description

Quality Powerwashing and home improvements at affordable prices

Visit our other community directory websites NJBizWebsites and SmartyLocals.
Copyright 2021, SmartyWebBuilders LLC, All Rights Reserved